Fluid-power solenoids advantages now available in standard industrial solenoids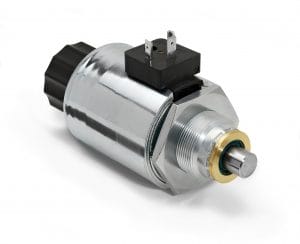 The coil body and armature of the Tube-Form Solenoid are manufactured as two distinct assemblies. This enables manufacturers to mount the solenoid separately for easier assembly, replace the coil without dismounting the unit, and interchange coils of differing voltage to reduce stock holding.
Protection rated to IP65, the compact coil is moulded with the connector system as a single component thereby providing a high degree of sealing and mechanical protection. Supplied with an insulation rate of Class F (155°C) as standard and with higher insulation ratings up to Class H (180°C) available, the Tube-Form Solenoid is also offered with ATEX explosive-protected to EEx mII and with a vast range of connector types including DIN, AMP, Deutsch, cable and integral diode options, etc.
The armature assembly is designed as an enclosed tube with threaded mounting nose to provide a high degree of mechanical protection and is rated at IP54 with sealing ring, to protect against water and dust ingress. The Tube-Form Solenoid is available as Pulling and Pushing and Shotbolt options and with integral spring return and manual over-ride.
The Tube-Form Solenoid is available in three sizes: Ø37, Ø45 and Ø62 body diameters, and in a range of forces, strokes and duty ratings. The Tube-Form Solenoid's high protection and lower production cost advantages will be of interest to a wide range of engineering companies requiring a cost-effective industrial solenoid for a wide variety of applications in machine systems.