PR: New Electric Bolt Lock Suits Industrial Security Applications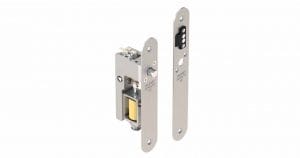 Electromagnetic actuator design specialist Magnet Schultz Ltd (MSL) announces a fully re-engineered range of electric shotbolts for demanding industrial use. Termed the EBL-I range, the new robust electric bolt modules feature the firm's renowned solenoid technology to deliver total reliability in all locking applications.
The open frame EBL-I (Electric Bolt Lock – Industrial) modules are easy to install and integrate into shutter, grille, gate and security door assemblies. Initial units have found popularity in roller shutter security, where the specially-designed mechanism provides anti-jacking resilience. This prevents intruders from using crowbars to gain access.
Two primary EBL-I variants are available: an energise-to-lock model, and a spring-to-lock (energise to release) model. In addition, both variants are available as special-purpose long-stroke modules where the actuator bolt movement is increased from the standard throw of 15mm to 20mm. Further options include a flat-ended bolt or chamfered bolt – the latter being ideal for slam-shut applications.
EBL-I electric bolts are available from stock at Magnet Schultz Ltd.