Magnet Schultz launch ATEX Shotbolt lock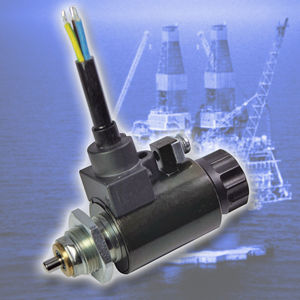 Magnet Schultz, the UK's leading manufacturer of specialist solenoid actuators and mechanisms, has launched a new Shotbolt lock which is ATEX approved to II 2G EEx m II T4.
The Shotbolt GSCE 037 has been specifically designed to meet the demand for electrical locking within hazardous areas and environments in which explosive atmospheres may exist.
A natural extension of the Magnet Schultz shotbolt product lines, the new ATEX shotbolt lock is suitable for a wide range of locking and interlocking applications in a cross section of industries including petroleum, chemical, manufacturing and electrical engineering. Protected against water and dust ingress to IP54 with sealing ring, Magnet Schultz compact GSCE 037 shotbolt is equipped with a robust nose mounting, slip-on coil and enclosed tube with threaded mounting nose to provide a high degree of mechanical protection.
Developed by the Magnet-Schultz Group, which has been designing and manufacturing solenoid mechanisms since 1912, the safety specification of the GSCE 037 includes a stroke of 8mm and a holding force of 8.2N.  The maintenance free shotbolt can be utilised as a spring-to-lock or energise-to-lock mechanism and includes a 1m long moulded cable, long-life bearings, integral spring return and stainless steel bolt.
The risk of an explosion within environments such as the petroleum industry, chemical works, mills, extraction plants etc., has necessitated an approval for equipment used within these areas. The ATEX directive covers this requirement and became mandatory for new installations in July 2003 and for existing equipment in 2006.
The Shotbolt GSCE 037 is a further innovation from Magnet Schultz Ltd, a leading solenoid specialist in the UK since 1967.  Working closely with its parent company in Germany and five manufacturing plants throughout Europe and the United States, Magnet Schultz Ltd has developed a reputation for technical know-how and expertise. Using solenoid technology, the company focuses on providing top quality engineering solutions for a spectrum of applications. It aims to provide the highest possible level of technical performance, whether supplying a bare solenoid or manufacturing a complex assembly.