IFSEC 2015 PR: New Full Turnkey Service Delivers Complete Solenoid-based Solutions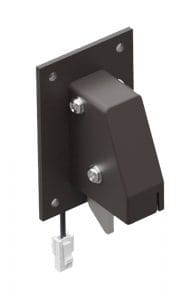 Magnet Schultz Ltd has chosen to extend its traditional solenoid subassembly design and manufacture service. To make life easier for its customers, MSL now designs and delivers entire solutions for specific applications wherever solenoid actuators are the mainstay of the system.
The company exhibited components from some of its most recent turnkey applications at IFSEC.
Years of experience in the development of specialised solenoid assemblies puts bespoke design firmly at the core of MSL's business. But the company's expertise extends beyond the actuator assembly to many other aspects of a final installation. For instance, MSL engineers have designed a range of aesthetic surface plates for sub-floor electric locks to match the installation environment when deployed in historic buildings.
Moving the service to the next level sees the company now taking responsibility for turnkey system solutions, including control panels, wiring, electronics and software. Andrew Newton, Managing Director at Magnet Schultz Ltd, points to a recent customer installation as a perfect example. "We have provided our low-power Type WSL1 solenoid-based Shutter Latch as the centrepiece of a bespoke security system. These devices are used on temporary buildings on construction sites and at other work places to automatically close security hatches and window covers in the event of fire or unauthorised access," Newton explains.
Now MSL has added value by developing all the ancillary equipment to deliver a complete security solution to its customer, which includes cabling, control panels and the control system itself. MSL engineers designed every part of the system from scratch to optimise operational performance and to deliver the robust solution needed for the harsh outdoor working environment.
While the market offering of entire control system development is a departure for MSL, the process and expertise is commonplace within the business as an intrinsic part of solenoid subassembly development projects. "We frequently undertake full electronic system and software design internally for our bespoke subassemblies, and now we're offering that service to customers," says Newton. "It is a full turnkey solution based on our substantial expertise that relieves them of one more project burden," he adds.
Image show the Type WSL1 Shutter Latch deployed as the actuator within a turnkey low-power automated security system solution for construction site temporary buildings.