Hothouse Design Partners & Vodafone
When Hothouse Design Partners was briefed by Vodafone to create the new mobile phone charging system for London Taxis, they chose us as their actuator system design partner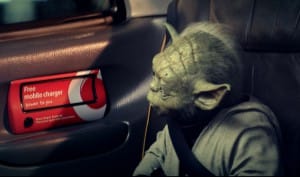 We have a long association with Kingston-based design agency Hothouse. So when they won a project to develop a mobile phone charging system for a fleet of Vodafone branded London Taxis they turned to us for a solution. Hothouse knew of our prototyping skills and medium-volume manufacturing capability, that's why they chose us to manufacture the Vodafone Taxi unit.

The Vodafone Taxi project lets all mobile phone users travelling around London charge their mobile phones. So, for the duration of a journey in a Vodafone London taxi anyone could boost their phone battery to get them through the day.
A flexible offering that's on time, every time
Our part in the project was to take the production specifications from Hothouse and develop assembly and test processes for mass volume manufacturing output. Flexibility was at the core of our endeavours. Due to the nature of the roll-out programme, our production system had to be able to contend with a fast ramp-up and short-term notice of output changes. Hothouse praised our work for "sound organisational and electromechanical engineering skills."
We made 1,000 units – on time.
For the team at Magnet Schultz Ltd, rewarding projects like this one are where we can add most value, through our deep understanding of the application of solenoid technology. We are trusted by Hothouse Design Partners – and other product innovation companies such as Cambridge Consultants – for critical projects where the control  and switching systems are fundamental to the design solution. Our world-class reputation in actuators has lead to us being chosen for other high profile technical projects.
If that's made you think about the breadth of our skills, or you would like to know more about our other recent product innovation projects, do give us a call or email our team of technical experts to discuss your requirements.